NEW HIP PROSTHESIS


Traditionally, it was said that hip replacements should be fitted to older people as their average life span was limited to 10-15 years.
With the arrival of new hip prostheses with their new materials and advanced design, this is no longer the case. The ideal age for the placement of a hip prosthesis has decreased significantly because of this.
The presence of short stems allows its placement with increasingly smaller incisions and different approaches as the previous approach.

The hydroxyapatite coating allows rapid integration with the bone.

The ceramic heads allow less wear and tear and the average life of the prosthesis to rise above 30 years.
In general, the advances in this type of prosthesis allow a faster recovery, less intraoperative bleeding and therefore a lower rate of complications.
HIP PROSTHESIS MBA SURGICAL EMPOWERMENT
Design

Designed by Furlong y Osborn
Pioneer with HAC Coating
First implantation in 1985
More than 300.000 implantations around the world


At the present time it continues triumphing:

Easy implantation
Big articular diameters
Reduce risk of luxation
Femoral options more conservative
Easy for any MIS approach
EVOLUTION STEM: FEATURES
Tradition

Rectangular proximal geometry
Total HAC Supravit coating
Cone 12/14

Evolution

Reduced lateral shoulder
Reduction of medial radio
Without collar
Proximal Coating Supravit Zoned
Simplified surgical technique
Increased roughness
Better pressfit and osseointegration

INTRAOPERATORIVE ADVERSE EVENTS
Adverse Event
Number of
Procedures

Event Rate


p. value
for differen

Furlong Evolution

All others
cementless stems

None
4.516

99,25%

98,58%
<0,001
Calcar Crack
25
0,550%
0,650%
0,4570
Pelvic Penetration
0
0,000%
0,090%
0,0250
Shaft Penetration
1
0,020%
0,030%
1,0000
Trochanteric Fracture
3
0,007%
0,180%
0,0770
Other
5

0,110%

0,420%
<0,001
| | |
| --- | --- |
| | Significantly better, p<0,001 |
| | Significantly better, p<0,050 |
| | Significantly worse, p<0,050 |
| | Significantly better, p<0,001 |
HIP MBA: Evolution Stem-Cumulative Revision Rate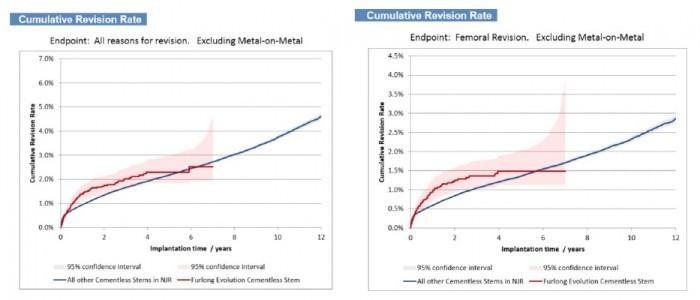 Contact Dr. Oscar Tendero in Mallorca and learn about the advantages of the new hip prostheses.